We've been exploring the use of the Hypur App in our new series with part 1 showing you how to initially download & set up the app and you can read that here: Hypur App: Setup
Hypur allows you to checkout at participating Ohio Dispensaries without needing to have cash on hand when making purchases.  It's an app that links directly to your bank account and doesn't charge any additional fees, unlike those expensive ATM fees we all encounter when having to use one inside of a dispensary.
The Hypur app is really super easy to use.  Once you download the app & link your bank account, you'll then see a dashboard that gives you a list of the Ohio Dispensaries that have signed up to accept Hypur payments.  If your local dispensary isn't listed, tell them they should sign up with Hypur to give you a better solution instead of having to use cash every time.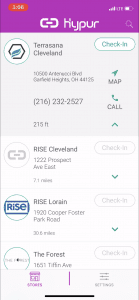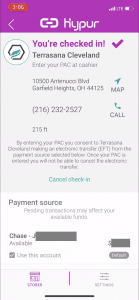 This list will show all of the Ohio Dispensaries that are signed up, but you'll notice that the "Check In" button is ghosted out on all of them.  They stay this way until you get close to a physical location and then this "Check In" button will become green & active, as you can see in the first picture to the left.
You simply tap "Check In" and that's it!  It will give you confirmation that you are checked in and there's nothing else you need to do!  The rest of your checkout experience is handled by the budtender helping you out.  Just simply mention to them that you're paying with Hypur and they'll know exactly what to do.  You will be required to enter the PIN you created when setting up the app to verify it's you.
The payment doesn't come out of your bank account immediately, but it does verify funds in some way to make sure you are good for the products you are trying to purchase.  From our experience the charge usually appears on your bank account within about 2 days and simply shows up as "Hypur Inc", so it's also discreet.
This is such an easy and fast way to check out since we always have our cellphones on us.  We don't always carry cash on us and we're still a long ways away from seeing credit cards being accepted at Ohio Dispensaries so the Hypur app really is a nice addition to our Ohio medical marijuana program.  
You can even earn $20 for free by simply following our Hypur Link when signing up.  Once you download the app, sign up & complete a purchase at a dispensary, you'll be credited $20!  You will also get your own referral code to send to friends and family and each time someone new signs up using your code, they get $20 and so do you!
You can also watch the latest video of JohnnyCannabis checking-in at Terrasana Dispensaries with the Hypur app: