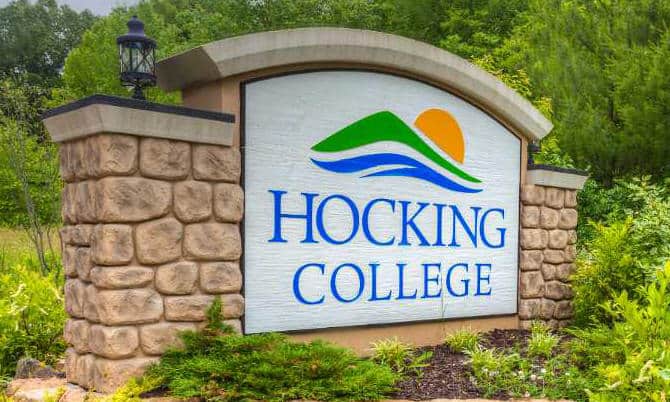 Nelsonville, OH – Aug. 8, 2018 – The Ohio Department of Higher Education (ODHE) has approved Hocking College's request to offer a cannabis laboratory technician major as part of their new Laboratory Sciences Program.
The cannabis laboratory technician is one component of the College's new Associates Degree in Laboratory Science. The other two components are medical lab technician and chemical lab technician.
The program is the only one in the nation that provides hands-on technical training for those seeking to work in medical cannabis quality assurance labs.
The cannabis laboratory major was established for workforce development, preparing students with sufficient depth and hands-on experience to allow them to become skilled technicians in this emerging area.
Hocking College recently received a provisional license from the State of Ohio to operate a medical cannabis testing lab. According to the program director, Dr. Jonathan Cachat, the lab will provide hands on training for students choosing the medical cannabis laboratory tract.
"What's really most exciting to me is the new avenue for workforce development," said Cachet. "This new program will benefit students who have a strong interest in the cannabis industry, but may not have considered themselves eligible for advanced analytical biomedical career paths."
"Hocking College's unique hands-out, day-in-day-out practical experience with these advanced analytical instruments will certainly set them apart from the more theoretical knowledge programs found in larger four-year institutions," said Cachet.
The Cannabis Lab technician major is a two-year associates degree program. The first year covers general education requirements found in the Associates of Science degree program. After successful completion of this first year, students will then be exposed to more technical aspects of operating a cannabis analytic lab, as well as its role without the broader medical cannabis industry. While the intended career path for this workforce development program is specifically toward Cannabis Laboratory Technician positions, but more broadly this program will prepare students for a position in almost any aspect of the newly emerging legal cannabis industry.
The cannabis lab technician program is still awaiting approval from the Higher Learning Commission. Updates will be posted to the Hocking College website at https://www.hocking.edu/.
About Hocking College
With more than 50 associate degree programs to choose from, Hocking College now serves more than 3,000 students. Set in the scenic town of Nelsonville, Ohio, the 2,300-acre institution is rich in history, nature, art and culture. Hocking College also has the Perry Campus located in New Lexington, Ohio and the Logan Campus. In addition to the school's on-campus residents, who attend Hocking from throughout the United States and around the world, local students commute from all over Southeastern Ohio. As a not-for-profit corporation, Hocking College Foundation is committed to the best practices in governance, accountability, and transparency in all that we do.
For more information on Hocking College, visit www.hocking.edu.