Following our Cannabis Cryptocurrency series with Potcoin as part 1, now Part 2 of our Cannabis Cryptocurrency series features DopeCoin Gold (DOPE). DopeCoin Gold is a cryptocurrency that was designed specifically with the goal of providing a billion dollar industry with a safer and faster way of doing business.
This cryptocurrency was originally created as DopeCoin in January of 2014, but in January of 2017 it went under new management and rebranded itself as DopeCoin Gold. Even though it is a fork similar to Bitcoin, it is still considered an Alt Coin.
The legal cannabis industry still continues to struggle with cash on hand and means of advertising and DopeCoin Gold helps to fullfil both of those needs with the help of the Smoke Exchange.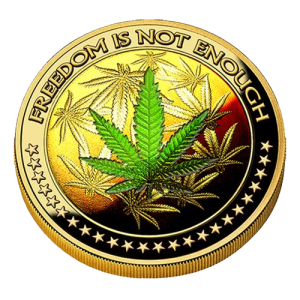 There are a total of 200,000,000 DOPE. It is on the POSV3 algorithm which is a newer version of POS. It is much more secure and efficient. Dopecoin gives out a staking interest of 5% annually and has a 60 second block time.
As of June 30th 2018, it is priced at $0.017950 and has a total market cap of $2.1 million dollars. However, it's All Time High back in January of 2018 was $0.257 and a total market cap of $30 million dollars. The potential for this cannabis cryptocurrency is there, but just not currently in this bear market in crypto.
It can be purchased on Bittrex's website: Buy DopeCoin Gold on Bittrex or also on Cryptopia: Buy DopeCoin Gold on Cryptopia. Just like Potcoin and all other alt coins, you will need to first purchase Bitcoin on an exchange through your bank account. The easiest way is via Coinbase, (which also has an app) or Kraken Exchange. Both allow you to transfer money directly from your bank account and Coinbase will even let you use your credit/debit card.
There are DopeCoin wallets available on 4 different platforms: Windows, Apple, Linux & a paper wallet. You can find the downloads for all of them on their main page, www.dopecoin.com. Since DopeCoin Gold is a Proof of Stake (POS) crypto, that means you can earn a profit of 5% a year for "staking" your coins on your computer as a "node".
There is a DopeCoin Gold Telegram channel
[hoops name="DopeCoin"]