Anonymous That Dude Interview – "Coffee and Kush" entrepreneur and musical artist gives us insight on where hes been, where he's going, and how cannabis legalization is impacting his career already.
As most know, the cannabis industry is one of the most controversial industries of its time. Current prohibition laws make it almost necessary for an underground market to form in areas where the plant still remains illegal.
Many people that have been involved with the industry have seen it's double edged sword first hand. A plant that offers so much benefit, can also bring so much pain to those who have taken part in "smuggling" or keeping the underground market supplied while legislatures catch up.
With many people either ending up dead or in prison, the street can put an end to their dreams, but for others, it can give them the inspiration they need to make these dreams into a reality. These individuals create art or music based on the life they spent in the underground that helps them share their experiences with others in a way that they might not be able to elsewhere.
No one does this better, than Anonymous That Dude. First linking up with him while he was on the road with "The Best Thang Smokin Tour", I could hear from his lyrics that he wasn't just your typical rapper.  His songs speak of wisdom beyond his years and give his listeners the "stay pushing attitude" that he seems to carry with him wherever he goes.
His slogan, "No Days Off" not only represents his album, but his mentality for life in general. I knew from the first time I heard him, this would be someone I'd like to learn from.
I got the chance to catch up with before his show at The Rialto Theater in Kenmore which is apart of his "Coffee and Kush Tour" and was able to get some insight on what makes this highly motivated man tick.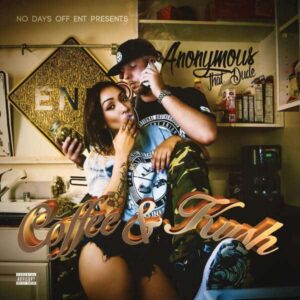 Still not ever getting his real time, I did manage to still get a little background information on this artists beginning. Originally from New York,  ATD relocated years ago to California to pursue his music and entrepreneurial career. He got his start almost by accident after he "laid some bars down on a track" that his friends listened to and encouraged him to keep building on. He then made the pivot from the underground into the rap game, starting at level one and climbing his way up ever since. Now with his own clothing line "Smugglers Union", numerous albums , and line of cannabis infused coffee products about to be released, you can say this man is literally taking NO DAYS OFF at achieving his dreams.
Anonymous That Dude, just released his album "Coffee and Kush Part 2" and has exclusive tracks with artists like Kevin Gates and Berner and is on a countrywide tour that has it's last show in Arcata, California on November 30th.
ATD's music, clothing, and product line, each centers around cross promotion. Everything has a purpose, everything has a meaning, every move he makes is calculated and lined up with a product launch or career move of some kind. However, that doesn't mean that heart and soul gets lost in the art. With lyrics like, "Came from the curb littered in New Ports, covered in dirt, dreams so unrealistic none of them worked, the one that did was big enough to show me the truth, through commitment you can do whatever you want to do", he is a living example of what one can do with a passion and dedication.
Don't get confused and think his music is just for people in the underground either. His fan base expands to business professionals and exercise enthusiasts alike. All with the same type of go getter attitude in mind as they use the help of music to push themselves to the next level.
Something I truly admire about ATD is the way he connects with his fans and promotes free music across the country. Not ever worrying about songs for the radio, Anonymous designs his music specifically for like minded individuals that share the same "hustle hard" passion. Last year, ATD gave out 70,000 free cds to his fans across the country including CDs like "Trap and Field" and the first of "Coffee and Kush" projects. Each album tells a different story through lyrical genius and harmonies constructed by ATD and other accompanying artists like Berner and Kevin Gates.
When I asked him where he got the idea for the "Coffee and Kush" album from, ATD told me, the name, like everything else under his umbrella brand, comes from his music. "Everything I push comes from a song I wrote. Smugglers Union is from a bar and that stemmed my whole clothing line.  In "Who The Fuck Is That Dude" album, there's a song called "Grind So Hard" that says "I've been living off Coffee and Kush" . & (With Coffee and Kush), I wanted to make a different project. I wanted to make a more rounded project. Coffee and Kush, is just my life.."
"Coffee and Kush Part 1" and his new album, "Coffee and Kush Part 2", ties into a cross promotion strategy for his infused cannabis coffee products which will be launching very soon. When I asked him if he thinks legalization would affect his musical career he responded that it already has. "Musically, it's opening more doors. It's just math. Legalization leads to industry and commercialization, which leads to marketing and branding. & the best people that market and brand are people that fit the lifestyle mode and the culture. Think about it, people that market and brand basketball shoes are basketball players. So being that I'm this artist from Cali who has pushed this weed line, now that weed is becoming legal, I'm the ideal person for these corporations to push their product. Three shows on this tour were booked by weed clubs including Vehicle City Social Dab Lounge in Flint, Michigan."
When I asked him about the hardest thing about being on tour, ATD told me it wasn't the long nights on the bus, or the late night studio sessions, but inability to smoke as much as he wanted, whenever he wanted that got to him the most. Despite being from a state like California where weed culture is embraced, a lot of states he tours through have yet to take on the same attitude when it comes to cannabis, leaving harsh penalties for anyone who still gets caught with trees or paraphernalia. Even without having enough access to trees, Anonymous That Dude still manages to put on a great show and I thank him again for allowing the OhioCannabis.com the EXCLUSIVE.
"When you're really dedicated to something and you stay focused with your eyes on the prize, the sky is the mother fucking limit. I see where I wanna be, I know where I wanna go, and I'm going to keep pushing till I get there. No Days Off. " – ATD
No matter if he's grinding in the Bay, in the office creating music, or spoiling his daughter with the fruits of his labor, ATD seems to always be always focused with his eyes on the prize. So no matter if you're still in the Trap and Field or just a Coffee and Kush lover, this artist is someone you should look to give you a product that delivers total satisfaction. His music will get you moving while giving you insight into the other side of the life industry all of us have come to love so much.  I look to see Anonymous That Dude as one of the cannabis culture brand leaders and would encourage anyone looking for some grind time music, to put on one of his albums and start pushing. No days off right?
Until next time,
Tia Marie Trees
You can find more information about Anonymous That Dude at:
You can listen to him on soundcloud at: bit.ly/2dVLOcz
Follow Tour at: bit.ly/2dRTvww
Check out his clothing line at: bit.ly/2e9PbHR