Rise Dispensaries helps & feeds Thanksgiving dinner by coming together this holiday season.  To help their local community, the great team at Rise put together a food drive at all of their Ohio Dispensaries that are currently open in northeast, Ohio.
They partnered up with Lakewood Community Services Center located at 14230 Madison Ave. Right at the corner of Madison and Roosevelt.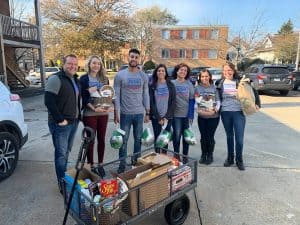 The great team at Rise came together Tuesday and dropped off an entire wagon full of thanksgiving items to the center, which is said to feed about 20% of the local community.
Rise currently has 3 dispensary locations open in Ohio;
Downtown Cleveland: 1222 Prospect Ave E, Cleveland, Ohio 44115
Lorain: 1920 Cooper Foster Park Rd W, Lorain, Ohio 44053
Toledo: 3157 W Sylvania Ave, Toledo, Ohio 43613
They have 2 more dispensaries that are set to open within a few weeks, both of them are in Lakewood.  One on Detroit Rd. & one on Madison Ave.